Manajemen & Bisnis (MABIS) is an open access journal with ISSN 1412-3789 and e-ISSN 2477-1783. The editorial board invites authors and experts to publish and share their ideas through scientific and empirical research in the field of Management and Business. The major objective of the publication is to improve theories, concepts, and practices in the field of management and business. The dissemination of research will enable young researchers, and practitioners to present and share their scientific empirical findings. We are going to be a bridge between theories and practices in management and business.
The participation of the well-known international and national experts in the editorial board is a guarantee of the sustainability and quality of the  publications  as a  contribution  to the development  of management and business research on the national and international scale. MABIS will be published semi annual (March and September) and contained  ten empirical  researches, preferably in English. This will make it possible to introduce  the latest empirical  research findings to practitioners and academicians. The journal will be interesting both to academics and  practitioners. The journal is  aimed at researchers, lecturers, undergraduate and postgraduate students, and also practitioners.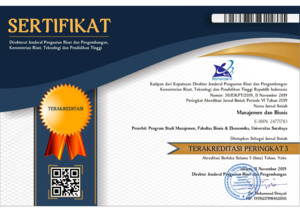 Manajemen & Bisnis (MABIS) has been accredited as a scientific journal by the Ministry of Research-Technology and Higher Education Republic of Indonesia: No. 30/E/KPT/2019
Announcements
No announcements have been published.
Vol 20, No 2 (2021): SEPTEMBER 2021
Table of Contents
Articles
Timothy Rey Laheba, (Universitas Atma Jaya Yogyakarta Indonesia)
The Jin Ai, (Universitas Atma Jaya Indonesia)

87-96
10.24123/jmb.v20i2.534
Abstract views : 0 |
PDF views : 0
Maria Aletta Dei Hariyanto, (Universitas Surabaya Indonesia)
Dudi Anandya, ( )

97-116
10.24123/jmb.v20i2.541
Abstract views : 0 |
PDF views : 0
Juliana Kadang, (Universitas Tadulako Indonesia)
Surayya Surayya, (Universitas Tandulako )
Muh. Fasial, (Universitas Tandulako )
10.24123/jmb.v20i2.508
Abstract views : 0 |
PDF views : 0
Gunawan Christanto, ( Indonesia)
Erna Andajani, (Universitas Surabaya Indonesia)
10.24123/jmb.v20i2.524
Abstract views : 0 |
PDF views : 0
Ameila Ameila, (Universitas Surabaya Indonesia)
Rizky Eriandani, (Universitas Surabaya Indonesia)
10.24123/jmb.v20i2.517
Abstract views : 0 |
PDF views : 0
Firda Mokodongan, (Universitas Muhammadiyah Yogyakarta )
Heru Kurnianto Tjahjono, (Universitas Muhammadiyah Yogyakarta )
Nuryakin Nuryakin, (Universitas Muhammadiyah Yogyakarta )
10.24123/jmb.v20i2.496
Abstract views : 0 |
PDF views : 0